Fifty years of Australian cricket history
A collection of cricket gear belonging to Australian players over five decades has come to the National Museum of Australia.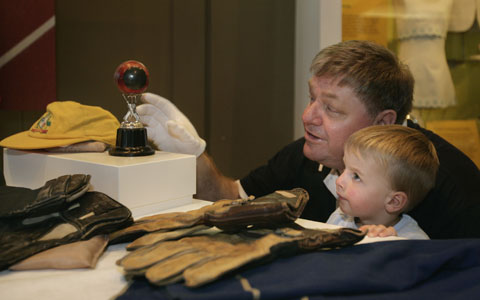 Swan Richards shows a young Museum visitor Wally Grout's record-breaking ball. Photo: Dean McNicoll.
At a glance
Cricket gear used by Greg Chappell, Rod Marsh, Bill O'Reilly and Wally Grout
1930s to 1980s
Collected by administrator Swan Richards
Includes a rare baggy green representative cap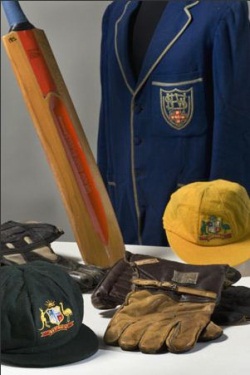 The Swan Richards collection includes, clockwise from left, Greg Chappell's baggy green cap, Rod Marsh's wicket keeping gloves (obscured), Chappell's bat, Bill O'Reilly's blue blazer, Marsh's one-day international cap and Wally Grout's gloves. Photo: Dean McNicoll.
Cricket administrator Swan Richards amassed the material over several decades. Mr Richards is an accomplished bat maker and administrator who established the developmental Crusaders cricketing organisation. He received the Australian Sports Medal in 2000 for services to the game.
Curator Rowan Henderson said the collection substantially boosted the National Museum's cricket holdings.
'The baggy green cap which belonged to Greg Chappell is a first for the Museum,' Rowan said.
'The baggy green has become a cultural icon. Less than 400 Australians have worn the national cap so they are relatively scarce and command high prices when they appear at auction.'
The Swan Richards collection has links to important moments in modern Australian cricketing history.
A highlight is a mounted six-stitcher ball which landed in Wally Grout's gloves eight times when he set a new first-class catching record during an innings for Queensland against Western Australian in 1960.
Record of a consummate cricket collector
The Swan Richards collection consists of:
The baggy green cap worn by Greg Chappell as captain during the
1982-83 series against England; and a cricket bat used and signed by Chappell in the 1980s.
Wicket keeper Rod Marsh's 1982 one-day international cap, labelled 'Bacchus' on the inside; and a pair of Marsh's wicket keeping gloves used in 1980
A pair of Wally Grout's wicket keeping gloves; and the mounted ball from the 1960 game when he scooped the first-class record for eight catches in an innings
Spin bowler Bill 'Tiger' O'Reilly's New South Wales team blazer.
Original article, with thanks, from National Museum Australia.